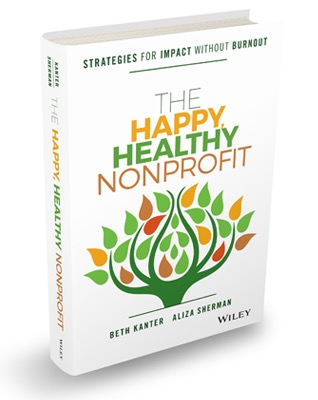 Member's Only Book Club
Next discussion – October 6, 2022
4 p.m. Eastern
This Quarter's Book Selection
The Happy, Healthy Nonprofit: Strategies for Impact Without Burnout
By Beth Kanter and Aliza Sherman
Co-authored by Beth Kanter, keynote speaker at the upcoming 2022 U.P. Nonprofit Conference, this book is a practical toolkit filled with concrete ideas, examples and steps for both individuals and organizations working on social change issues to achieve greater impact without burnout.
The way we work in the nonprofit workplace and conduct our personal lives contributes to our feeling of being overworked and overwhelmed. This is all too common in the nonprofit sector, and it takes more than a shift toward supporting more sustainable ways of work and an attention to self-care.
Topics in the book include:
Understanding the pillars of self-care for individuals or the Wellness Triad: sleep, nutrition, exercise
Stress reduction techniques
Managing technology and information overload
Understanding and practicing ways to work that replenish individual energy
Effective team work habits and communication
Productive and effective meetings including walking meetings
Developing staff well-being plans as part of organizational strategy
incorporating Mindful and People-Centered Leadership techniques
Ways to encourage individual and group reflection and learning
This group just for Grow & Lead members will meet quarterly on Zoom to allow for participation from all areas of the U.P. The book selections will be voted on each quarter by those in the group.