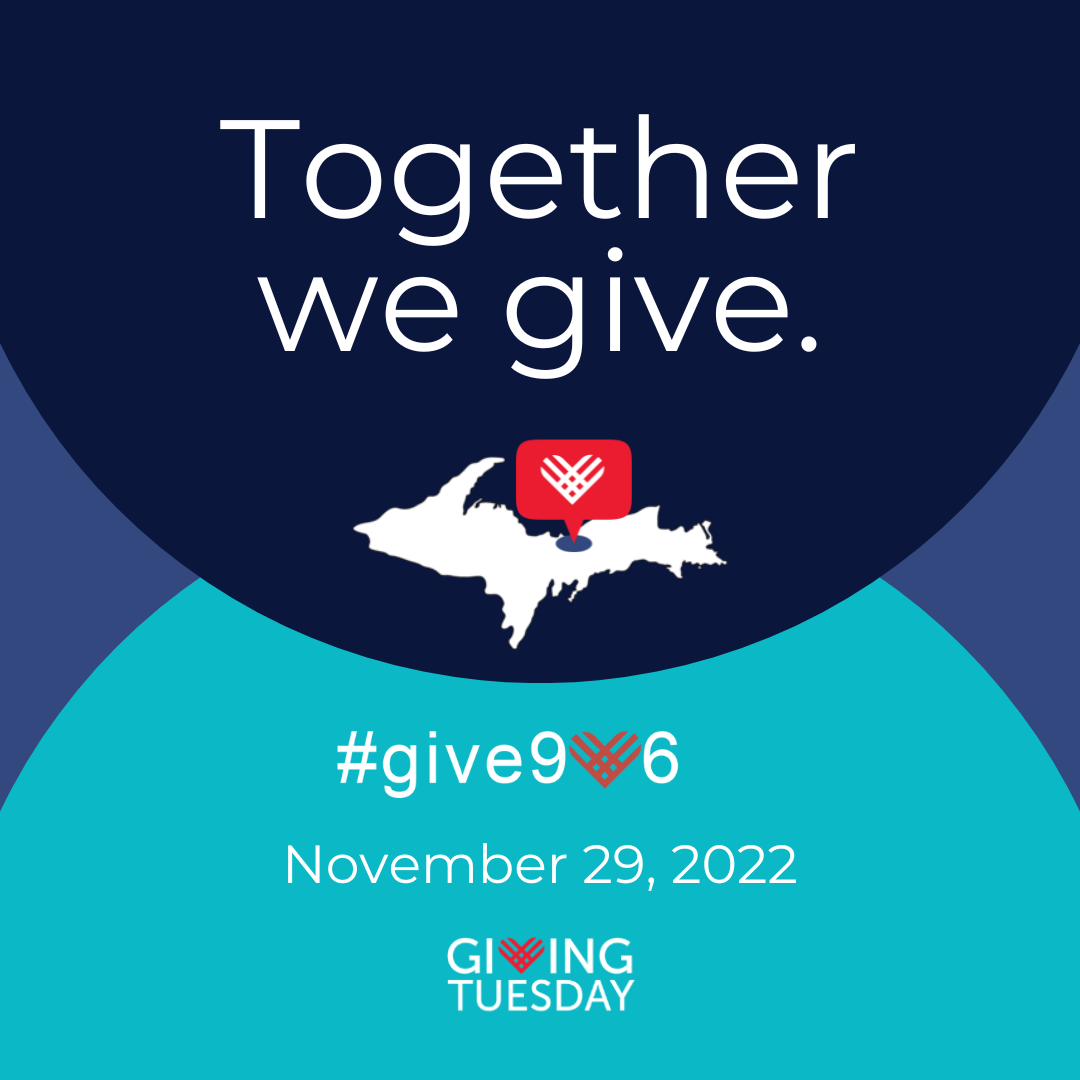 GivingTuesday
Michigan Upper Peninsula's Local Campaign #Give906
Considering giving to a charitable organization in the Upper Peninsula this giving season? The #give906 Giving Guide is here for you! This is a one-stop place to learn what charitable organizations are doing to meet critical needs across the U.P. and how you can help this GivingTuesday and throughout the year.
More than 50 U.P. organizations are listed below. The guide includes a description of each organization's GivingTuesday initiative and a link to donate or to learn more about getting involved. The guide is coordinated by Grow & Lead: Community and Youth Development as part of the GivingTuesday global generosity movement which inspires people to give back on GivingTuesday, Nov. 30, and throughout the year.
Grow & Lead encourages residents of the U.P. and those who hold the U.P. close to their hearts to consider giving to an organization in the 906 area code during this season of generosity.
"Nonprofit organizations have had to work harder than ever to overcome the challenges of the past year," says Grow & Lead CEO Amy Quinn, "yet they persevere because their missions are so important. The initiatives shared in the #give906 Giving Guide show the ingenuity and passion of U.P. organizations to meet the needs of their communities."
Youth Empowering Services
Say "YES" to youth with Youth Empowering Services! Support in-school mentorship for youth in grades K-5!
Families Against Narcotics (FAN)
This project benefits persons, families, and communities experiencing addiction and those in recovery from substance use disorders.
Wattsson & Wattsson Jewelers
Wattsson & Wattsson will be matching sock donations for the Marquette Alternative High Shool in their "Rock the Socks Box."
Marquette Symphony Orchestra
Professional, classically trained musicians will provide 30-minute virtual and in-person solo sessions playing and conversing with elderly residents.
Superior Arts Youth Theater
SAYT puts on three musicals each year and the youth often express how valuable having live musicians is for the quality of the production. Help SAYT support local musicians while putting on an awesome show!
Clear Lake Education Center Stewards Group
Clear Lake provides a safe, engaging way for students to explore the natural world and learn from it in totally immersive, hands-on, outdoors science programs. It needs your support.

Gwinn Area Community Schools
RISE (Recognizing Incarceration through Support and Education) helps Gwinn students and families make needed connections to help ease the impact of incarceration.
Dickinson Iron Community Services Agency
DICSA's goal is to deliver hot meals to more people in Dickinson and Iron counties. With extra funds, DICSA can take people off its waiting list who desperately need Meals on Wheels. 
Superior Alliance for Independent Living (SAIL)
SAIL staff will go to Propylon Housing and help individuals register for Smart 911 which will better prepare first responders to assist them in an emergency situation.
Camp New Day U.P.
Camp New Day continues to provide a positive impact for area youth whose lives have been impacted by incarceration. 
Munising Hockey Association
Munising Hockey Association is raising funds for its scholarship program and equipment. They believe all kids should have the opportunity to play hockey no matter what their family's economic situation is. With its scholarship program, the organization's impact goes far beyond hockey.
Marquette County Habitat for Humanity
The organization's goal for GivingTuesday is to raise $500 to help support its programs. The office staff will go live on Facebook to talk about programming. Tune in for a chance to hear from staff behind the scenes about how Habitat's work benefits residents.
Marquette Area Public Schools Education Foundation
The foundation supports scholarships, children's savings accounts and teacher grants that positively impact all students.
Marquette Lions Club
Due to a generous donation to Marquette Lions Club, the group is paying it forward to those who care for those in need.
STAR Children's Bereavement Services
STAR is having a shirt sale to help fund bereavement programming for kids in the U.P.
Caregiver Incentive Project
CIP works to address the shortage of in-home caregivers while providing support to caregivers and those who need in-home care.
Gogebic Range Health Foundation
A donation to the Gogebic Range Health Foundation makes a direct impact on the overall health of the Gogebic Range.
Lake Superior Theatre, Inc.
LST cannot do live theatre without you… Get involved. Audition. Volunteer. Build. Attend. Donate. LST is here for you… Let them entertain you as they make Marquette a great place to work, live and play.
Soo Locks Children's Museum
The Soo Locks Children's Museum's theme for GivingTuesday is "Let's Get This Demo Done!" The museum is at the threshold of a demolition of its interior to prepare it for exhibit installation. With this demo, they will be able to forge forward to serve the community's families with a STEAM-based museum.
Alger Regional Community Foundation
Alger Regional Community Foundation is celebrating 30 years in service to the Alger County community! GivingTuesday is an extension of the foundation's end-of-the-year giving campaign.
U.P. Wild
We all have a story to tell. We have all had a moment of reverance and awe in the natural world. Across denominational and societal divides, we unite in our love of the outdoors. U.P. Wild's goal is to have 23 new monthly donors in 2023.
Upper Peninsula Animal Welfare Shelter (UPAWS)
With your financial support, volunteering and adoptions, UPAWS can serve up to 1,000 animals. Help them do that today.
Superior Health Foundation
Superior Health Foundation is focusing on raising funds for two organizations that help our most cherished veterans, the D.J. Jacobetti Veterans Facility and the Oscar G. Johnson VA medical Center. 
Upper Peninsula Land Conservancy
UPLC has big plans for 2023! They need help to kickstart projects including Dead River Community Forest trail building, new signage at the Tory's Woods Nature Preserve and community education events.
Greater Ishpeming Commission on Aging
The organization is raising money for its senior meal program in which they serve lunch once a week to 65-80 seniors on the West End of Marquette County. They are looking to expand and grow services for a sustainable program.
Marquette Regional History Center
This year, the Marquette Regional History Center is hoping to raise enough money to gift FREE museum field trips to 25 classrooms. In 2023, it will cost the average sized classroom $90 to attend a field trip at our nonprofit museum.
Marquette Maritime Museum
Marquette Maritime Museum's Giving Tuesday includes a fundraiser ghost story program, Spirit Ships and Haunted Harbors
The David & Thu Brule YMCA Marquette County
Help cancer survivors gain strength and support. We are raising funds for 10 participants to experience the benefits of Livestrong. Just $40 goes toward one day of support for one person!
UP Children's Therapy
Help children gain the vital communication skills and confidence to improve their speech and language challenges to achieve success at school and in life. Join U.P. Children's Therapy for GivingTuesday and give now!
Marquette Maritime Museum
Marquette Maritime Museum's GivingTuesday includes a fundraiser ghost story program, Spirit Ships and Haunted Harbors. 
Room at the Inn
Help Room at the Inn provide shelter, a warm meal and resources to get on the path toward self-sufficiency for our unhoused neighbors.
Omega House
Your donations help future residents with limited resources afford the cost to reside at Omega House.
U.P. Region of The Salvation Army
Sam's club will match 2:1 dollars donated from November 30-December 2 up to 1 million dollars!
Houghton- Keweenaw County 4H
The Houghton-Keweenaw County 4-H Program Endowment ensures that 4-H in the Copper Country will provide positive youth development opportunities to youth for generations to come. We set a goal of raising a minimum of $10,000 locally to establish county 4-H endowment funds. To donate, please make sure that you specify Houghton-Keweenaw County on the donation form.
Iron County 4H
The Iron County 4-H Program provides positive youth development opportunities for youth. To donate, please make checks payable to Iron County 4-H Council, 2 South 6th Street suite 14, Crystal Falls, Michigan 49920.
Pajama Program Upper Penninsula Michigan Chapter
Pajama Program provides new pajamas and storybooks, sleep health education, and caring connections to ensure that children facing adversity have the tools they need for better bedtimes.
Marquette Fringe
Marquette Fringe is fundraising for our 2023 events. We are a volunteer-run organization committed to maintaining a low barrier of entry for both participants and attendees. Donations go towards paying creatives and producing our public art events. We seek to provide events where anyone can have a transformative experience through art and community, while encouraging experiential and non-traditional forms of art through a diverse creative pool of participants.
4-H Marquette County
We would like to raise money for our scholarship program to send  youth and volunteers to attend 4-H programs  such as, 4-H Camp, Exploration Days at MSU, Citizenship Washington Focus in Washington, DC, and more!
Little Brothers Friends of the Elderly
Baraga County Shelter Home
Copper Country Senior Meals
Friends of Porcupine Mountain
Big Brothers Big Sisters of the Western U.P.
Keweenaw Family Resource Center
Dan Schmitt Gift of Music
Bootjack Fire & Rescue Foundation
Copper Harbor Trails Club
Ontonagon County Cancer Association
unitē Mental Health and Wellness
Barbara Kettle Gundlach Shelter Home
Ahmeek Village Volunteer Fire and Rescue
Copper Country Angel Mission
Ripple Recovery Residence-Great Lake Recovery Centers Foundation
Simple Kindness for Youth
Copper Country Habitat for Humanity
Copper Country Junior Hockey Association
Keweenaw Random Acts of Community Kindness