Thursday, October 5, 2023
Northern Center at Northern Michigan University in Marquette, MI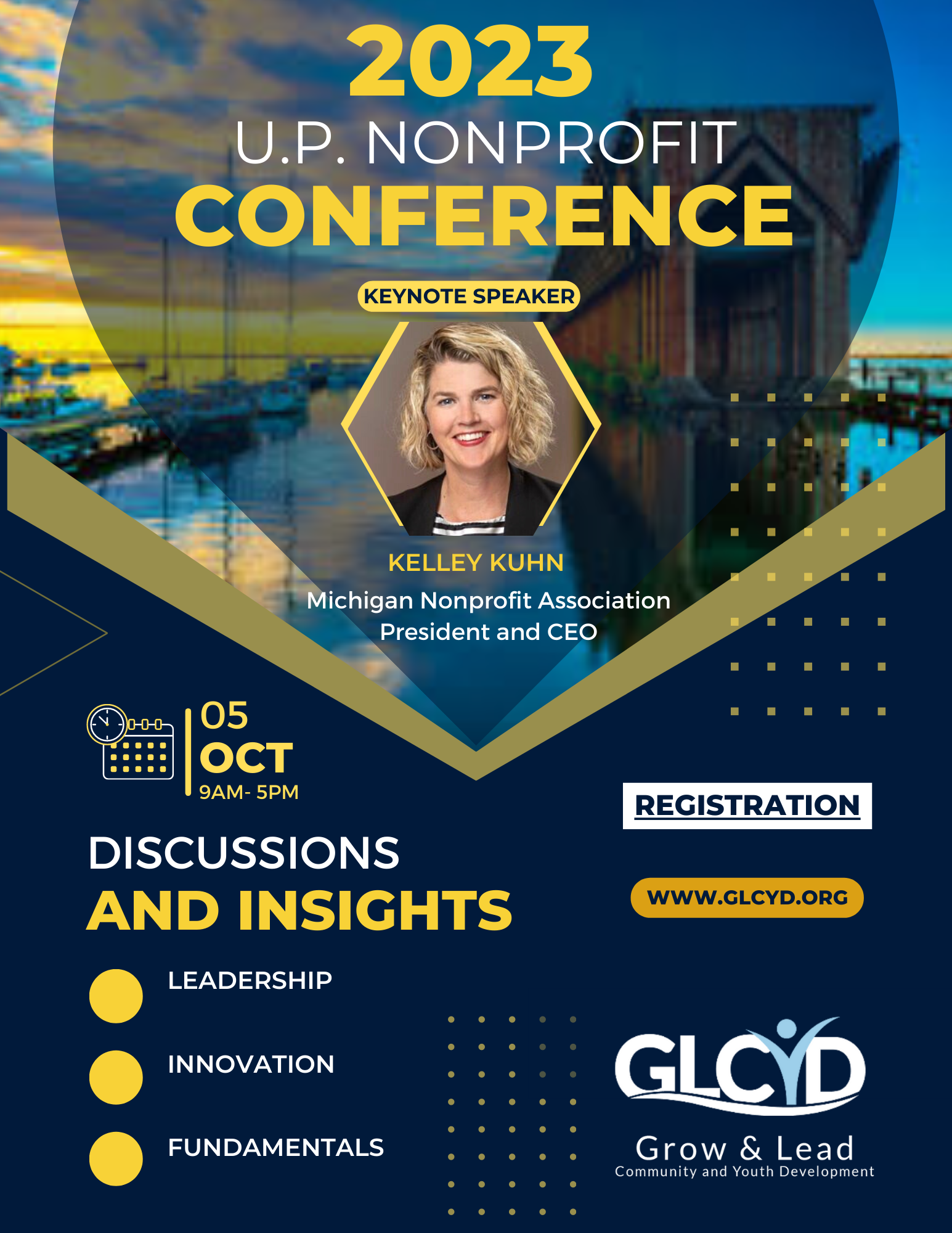 Keynote Speaker- Kelley Kuhn
Kelley Kuhn (she/her) lives and breathes the business of nonprofits. She's in the most perfect job in the world to help the nonprofits on the ground literally make lives and communities better. Kuhn is the president and CEO of Michigan Nonprofit Association (MNA), a charitable organization dedicated to nonprofits and the communities they serve by promoting antiracism and social justice.

"A solid and resourced nonprofit sector makes the world a better place and my mission is to ensure all nonprofits have access to capital, human and other resources they need to deliver on their missions," she said.

It wasn't always numbers and meetings though. Kelley fell in love with the power of change that nonprofits can create when she was in college and volunteered as a Special Olympics Unified Sports coach. After that, an internship in Jackson County sealed the deal. Nonprofits need safety nets and Kelley aims to be the fuel that helps keep all nonprofit programs moving forward here in Michigan. In her moments away from championing Michigan's nonprofits and advocating for diversity, equity and inclusivity, Kelley enjoys spending quality time with her family in Saline, along with their new puppy, Tracker.
Workshops and Learning Sessions
The 2023 U.P. Nonprofit Conference will feature workshops and additional learning sessions for all attendees on a wide variety of nonprofit management topics!
Registration Information
Pre-conference registration is recommended. Onsite registration will be available at the Northern Center at NMU on Thursday, October 5 from 8:30 to 9 a.m.
Registration Rates
Grow & Lead Member Registration – $95
General Registration – $125
Lodging
There are many lodging options available in Marquette.
Scholarships
Grow & Lead has a limited number of scholarships available for the 2023 U.P. Nonprofit Conference. 
Sponsor Information
The U.P. Nonprofit Conference provides an exciting opportunity for nonprofit leaders, board members, staff and volunteers from throughout the U.P. to come together to learn, discuss and share common concerns and ideas that influence our communities. Sponsoring the conference demonstrates your support and interest in the nonprofit organizations and the important programs and services they provide.