Volunteers make a difference every day across the Upper Peninsula. In good times and hard times, they step up to give their time, talent and resources where needed. Whether fighting a pandemic, alleviating hunger or homelessness, protecting the environment or enriching the lives of our youth and elderly, volunteers are there to get the job done. They are the true superheroes.
Grow & Lead presents the annual U.P. Service Awards to recognize exemplary volunteer and charitable efforts throughout the Upper Peninsula. Congratulations to the 2020 award recipients! Your service is inspiring and appreciated!
2020 U.P. Service Award Recipients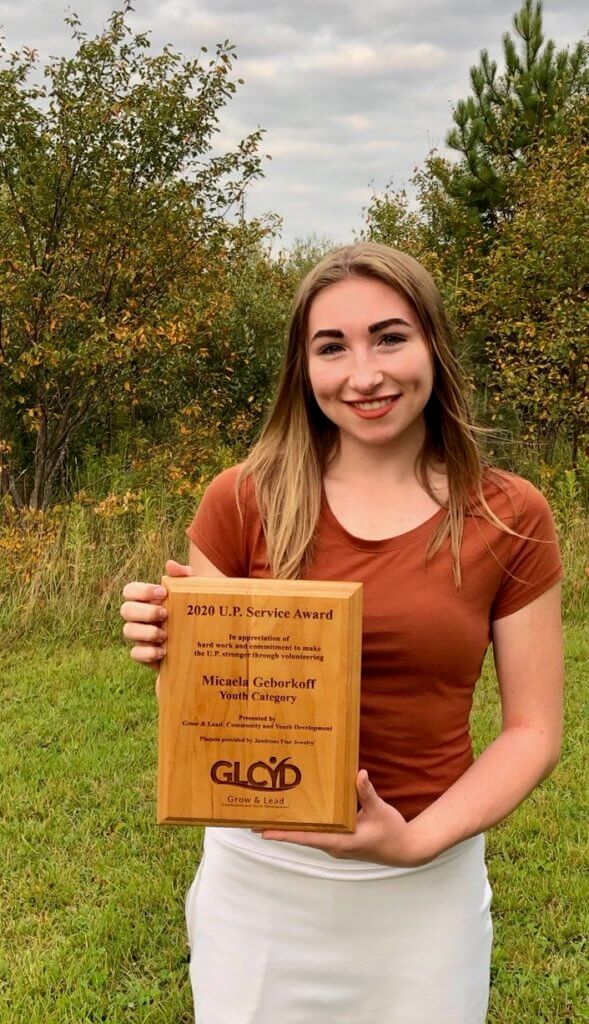 Youth Award: Micaela Geborkoff, 16, of Chassell serves on the granting committee of the Keweenaw Community Foundation's Student Leadership and Advisory Council of the Keweenaw (SLACK) and participates in service projects with the group. As president of the Houghton County Service 4-H Club she seeks out, organizes and leads service projects such as the Houghton County Father's Day Flood restoration, which has been ongoing for two years. She has also winterized homes of community members through a partnership between the Houghton Energy Efficiency Team, SLACK and 4-H.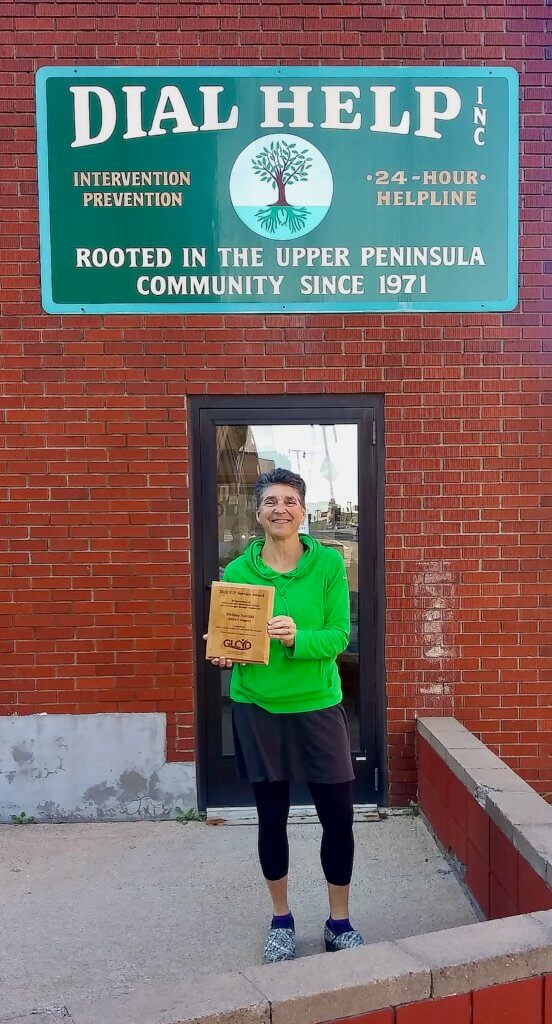 Adult Award: Melissa Santini of Ontonagon volunteers with Dial Help in Houghton. She drives more than an hour each way—even in snowstorms—to work her weekly shift on the Dial Help crisis line. Since she began in 2015, she has answered more than 800 calls. She also serves as a victim advocate in Ontonagon. She helps connect clients to the local resources they need. She provides a calm, listening ear to those in need, a safe place to those who may have none and empowerment to those who are feeling insignificant.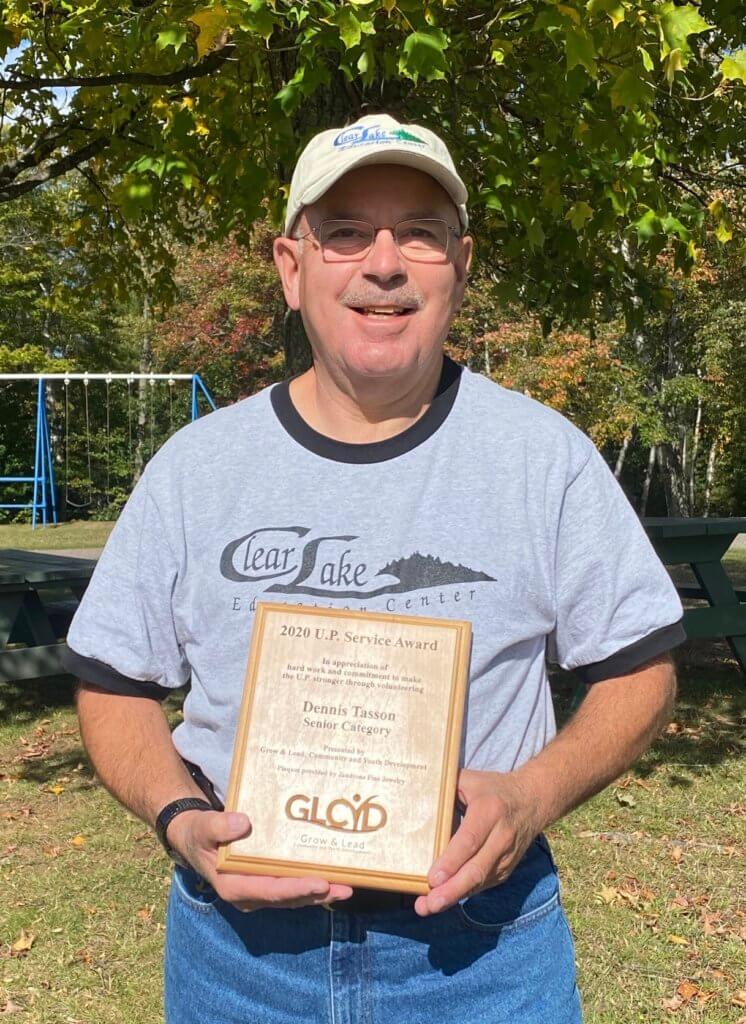 Senior Award: Dennis Tasson of Ishpeming volunteers at Clear Lake Education Center near Manistique. He serves as the president of the Clear Lake Stewards Group which raises funds to support the camp. He also is a certified high ropes course instructor at the camp. He began coordinating school group trips to Clear Lake 22 years ago as an administrator at Aspen Ridge Middle School in the NICE Community Schools district. Since retiring  in 2011, Tasson continues to lead the school's efforts to ensure each seventh grader gets to attend the camp for a three-day, overnight learning experience.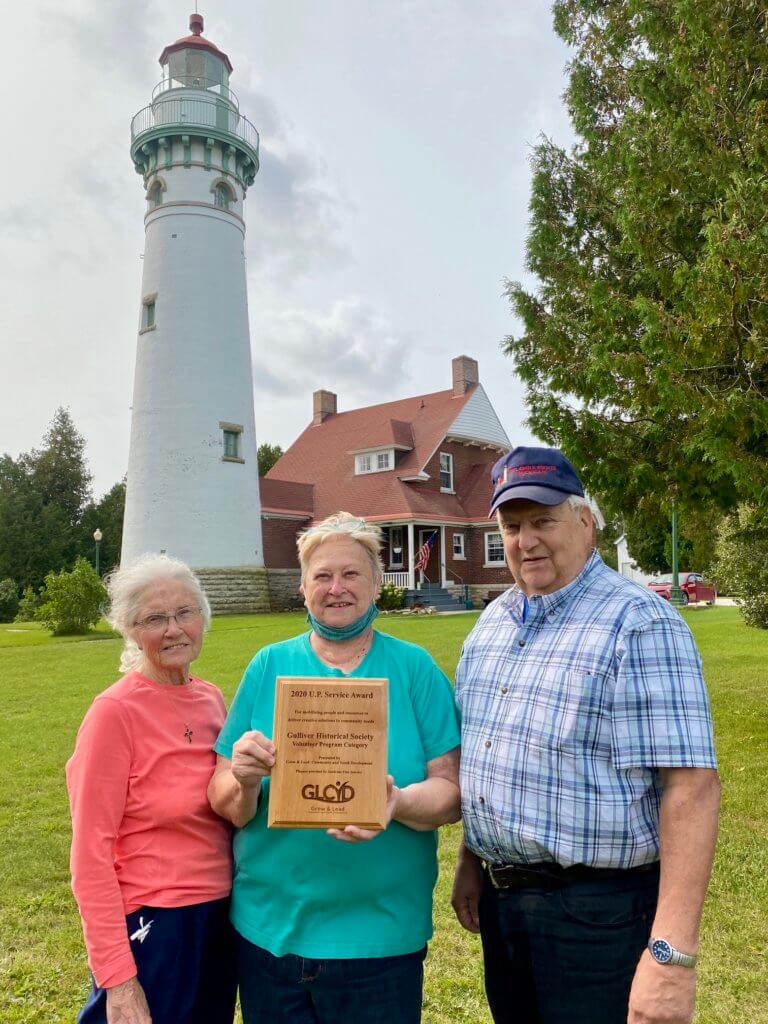 Volunteer Program Award: Gulliver Historical Society operates the Seul Choix Pointe Lighthouse on Lake Michigan in Gulliver. The all-volunteer organization preserves the light, which it restored 32 years ago, and maintains the surrounding six-acre grounds which includes seven buildings. Volunteer tour guides tell stories of the history of the lighthouse and people who served there. Volunteers also conduct fundraisers; update museum displays and operate a research/genealogy library and a gift shop.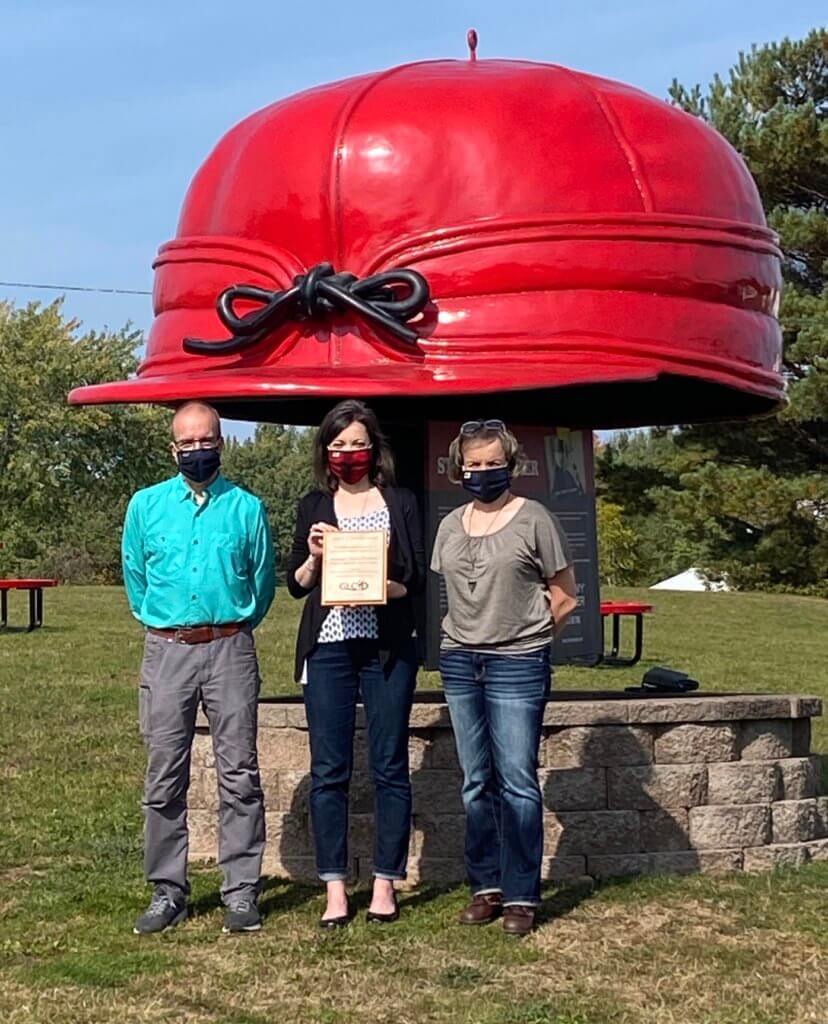 Business Community Leader: Jacquart Fabric Products of Ironwood, home of the Stormy Kromer brand, is dedicated to giving back to the community. Responding to the COVID pandemic in March, 2020, the cut-and-sew manufacturer changed over its main production floor, engineered masks and gowns, sourced material and began producing personal protective equipment for healthcare and other frontline workers. Later that spring, it launched a Stormy Kromer mask and donated part of ongoing sales to the Gogebic Range Health Foundation in Ironwood and St. Luke New Life Center in Flint.
2019 U.P. Service Award Recipients

Pictured from left are Jerry Maynard and Terri Gilotte of Marquette Alger Resolution Service, program award recipient; Steve and Kristy Benoit, adult award recipients; Haley Worden, youth award recipient; Ruth Craig, senior award recipient; Simone and Tony Beres of La Dolce Video & Design, business community leader award recipient and Sarah Blakely, awards program emcee and morning news co-anchor with TV6 Fox UP, gold sponsor of the U.P. Nonprofit Conference.
Youth Award: Haley Worden, 19, of Sault Ste. Marie has been volunteering as long as she can remember. A Girl Scout for 13 years, she attained the Gold Award with a project in which she partnered with her local public library and farmers market to engage more than 50 children and 20 adults in growing their own vegetables. She was also able to donate 100 pounds of fresh produce to local agencies. Haley has also volunteered extensively through service learning and with Boy Scouts of America National Youth Leadership Training.
Adult Award: Steve and Kristy Benoit of Escanaba have been hosting the Benoit Bash fundraiser annually since 2008 with proceeds from the last eight years going to Bay Cliff Health Camp. This community picnic, held at the Benoits' home, grows each year. This September, 600 people attended the event which featured five bands, three bounce houses and numerous games, raffles and other family-friendly activities. With the volunteer help of family and friends, over $20,000 was raised to help children attend camp.
Senior Award: Ruth Craig of Garden has endless energy, love for all ages and a heart of gold. Ruth is president of the Village Artisans, a nonprofit organization that promotes art to enrich the lives of the Garden community. Ruth organizes fundraisers, conducts art classes, plans luncheons, garden walks, cemetery crawls and tours of homes on the Garden Peninsula. She graciously works alongside other volunteers and never asks them to do anything she herself would not be willing to do.
Volunteer Program Award: Marquette Alger Resolution Service (MARS) has been providing mediation services since 1992. Trained volunteers provide a neutral voice to help disputing parties reach a mutually satisfactory resolution to issues that would otherwise be handled in court. Volunteers undergo 48 hours of training and a 10-hour supervised internship in order to serve as mediators. In 2018, 29 volunteers mediated 215 cases over 531 hours for the benefit of 766 adults and children.
Business Community Leader: La Dolce Video & Design is a marketing and web design, videography and print business in Marquette which makes giving back to the community a priority. Owners Tony and Simone Beres have donated or discounted services to many nonprofit organizations and charitable initiatives. From donating videography and photography for the annual Pigs 'N' Heat charity hockey game to dispatching the business's Helicam to a search and rescue mission, their usual response to a request for help is "Sure, we can do that."
2018 U.P. Service Award Recipients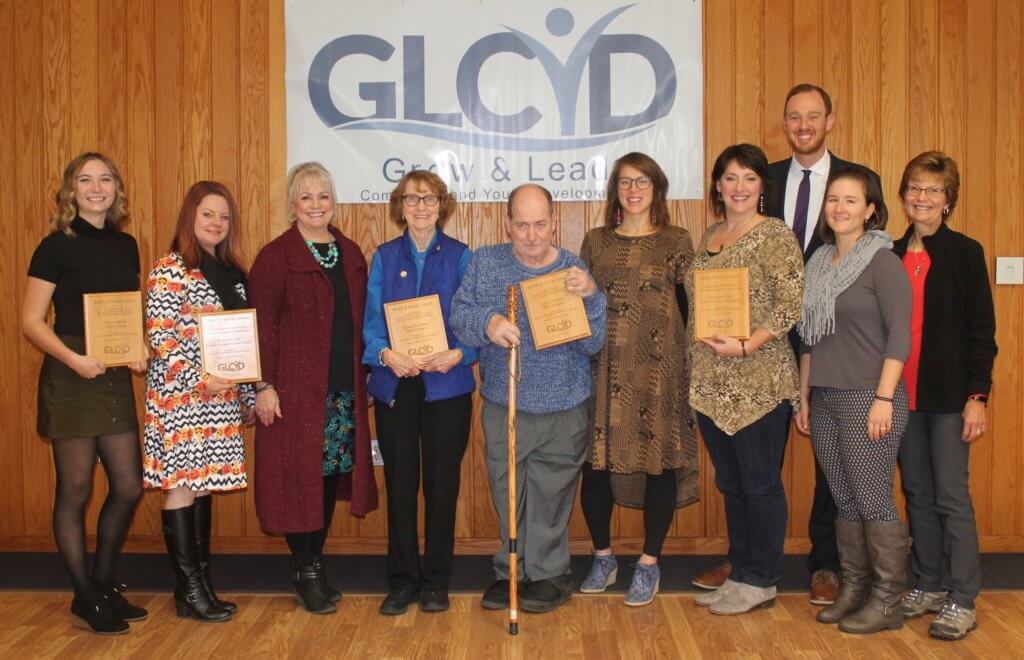 Pictured from left are Sierra Bentti, youth award recipient; Andi Gorieski and Darlene Martin of Select Realty, business community leader award recipient; Grace LaValley, senior award recipient; Larry Dobbs, adult award recipient; Sarah Carlson and Laura MacDonald of Start the Cycle, program recipient; Andrew LaCombe assistant news director and morning news anchor of WLUC TV-6, gold sponsor of the U.P. Nonprofit Conference; Aurora Dobbs and Julie Maynard of Start the Cycle.
Youth Award: Sierra Bentti, 17, of Marquette is president of the Community Foundation of Marquette County Youth Advisory Council, a member of the Peter White Public Library Teen Advisory Board and chair of the Marquette County Cares Teen Team. She also volunteers with JJ Packs and CAT Packs food assistance programs. In her position with Marquette County Cares, she helps youth, ages 11 to 17, organize community activities that build protective factors and decrease risky behaviors among their peers.
Adult Award: Larry Dobbs of Negaunee has been a Non-Emergent Medical Transportation Volunteer Driver for Upper Peninsula Health Plan (UPHP) since 2001. He has logged nearly 300,000 miles over 50,000 hours taking UPHP members to medical appointments. Larry routinely puts the needs of UPHP members ahead of his own. He is often the first volunteer UPHP calls when they need to make arrangements on short notice such as for hospital discharges. Larry has also been a transporter for the Michigan Department of Health and Human Services for 22 years. Between the two agencies, it is estimated he has driven 600,000 miles.
Senior Award: Grace LaValley of Marquette has been volunteering at D.J. Jacobetti Home for Veterans since 1998 when she and her husband, Wilber came to visit with veterans. She began volunteering there regularly in 2003. Since then, she has served more than 4,700 hours—600 of which were in the past year. Grace prides herself in knowing every resident's interests and limitations. She has recruited countless others to volunteer at the home. She mentors her fellow volunteers and lets them know which residents like to attend which activities and who may need extra help.
Volunteer Program Award: Start the Cycle of Marquette pairs adult volunteers with youth ages 12-18 to teach them life skills through mountain biking. Volunteers ride weekly with the young people, mentoring, providing instruction, companionship and creating trusting relationships. More than 40 volunteers spend more than 3,600 hours each year to help the young bikersset and accomplish goals includingcompleting the 906 Polar Roll fat tire and Ore to Shore Mountain Bike Epic races. 
Business Community Leader Award: Select Realty, Inc. is a full-service real estate company committed to excellence and dedicated to serving the central U.P. Each of the 29 agents and three additional employees at Select has donated upwards of 100 hours of their time for charitable purposes throughout the year. The organization manages a community fund in which every agent donates a portion of their commissions daily. They also host many community fundraisers and participate in charitable community events.
2017 U.P. Service Award Recipients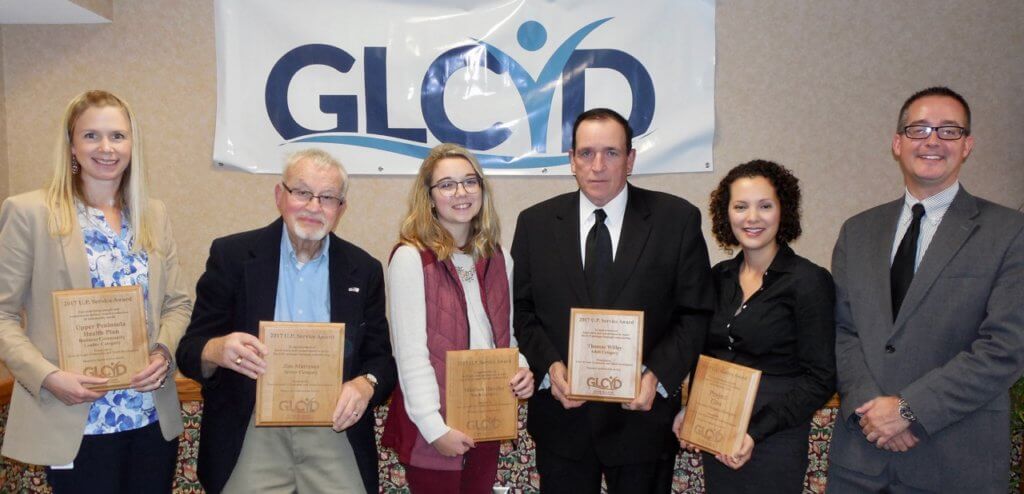 Pictured from left are Melissa Holmquist, Chief Operating Officer of Upper Peninsula Health Plan, Business Community Leader Award recipient; Jim Matteson, Senior Award recipient; Madison Hundley, Youth Award recipient; Thomas Willey, Adult Award recipient; Marina Dupler, nominator of Project Give, Program Award recipient, and Rick Rhoades, Vice President and General Manager of WLUC TV, gold sponsor of the U.P. Nonprofit Conference.
Youth Award: Madison Hundley, 17, of Crystal Falls is a young woman on the move. She is involved in so many activities through so many organizations, her service to others flows from one activity into the next. Her volunteer activities range from highway litter clean-up to helping organize a father/daughter dance, from serving as statistician for the high school girls' basketball team to serving on the local Community Foundation Youth Advisory Council, from organizing homecoming spirit week to sharing her love and expertise of farm animals with young children.
Adult Award: Thomas Willey of Ishpeming is an assistant scout master with Boy Scout Troop 302. Over the last year, he spent 110 hours in troop meetings, 24 hours in committee meetings, 100 hours in training, 50 hours with the annual popcorn event and countless hours in camping events. He is at every troop meeting and every Bay Lakes Scouting event which sometimes includes traveling hours from home. He also dedicates significant volunteer time to Odd Fellows. But his most selfless act, according to his teenage sons, was adopting them years ago and dedicating his life to them. He has been to every one of their meetings and sporting events ever since.
Senior Award: Jim Matteson of Marquette is dedicated to church, civic engagement and helping people regarding education, poverty and working conditions. At 82, his age does not deter him from making his community a better place for all. Organizations that have benefited from his volunteerism include Room at the Inn, Bay Cliff Health Camp, Peter White Public Library, Marquette Transit Authority, Marquette Rotary West Foundation, Marquette Hope United Methodist Faith Community, NMU Center for Lifelong Learning, Marquette Choral Society, U.P. Land Conservancy and North Country Trail Association.
Program: Project Give organizes and implements charitable projects, bringing together those who want to help and those who need it. Founded in the tiny town of Stephenson, the nonprofit exemplifies its tagline: Small Town United. The organization was born from the belief that there are many people willing to help others, but they are unsure of how to start. With projects that alleviate hunger and childhood bullying, empower women, celebrate being a Yooper and promote local, small businesses, it seems that almost no one is beyond the impact of its efforts and there truly is a cause that anyone can get behind.
Business Community Leader: Upper Peninsula Health Plan guides its members to quality, cost-effective care through a network of providers, improving the overall health of the communities it serves. Founded in 1998 with six employees, the organization has grown to more than 150 employees—all of whom are encouraged to be active in the community beyond their professional roles. Each month, employees contribute more than 250 combined personal hours to civic, school and church projects. In 2016 alone, UPHP committed $120,000 in charitable giving and sponsorships.